Jura ENA 4 Espresso Machine (Nordic White - Open Box)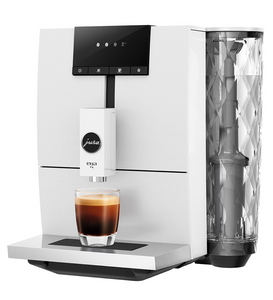 *THIS IS AN OPEN-BOX MACHINE*
The all-new Jura ENA 4 is the latest addition to the Jura family. This slim-line one-touch machine utilizes Jura's patented Pulse Extraction Process to produce the most flavourful espressos, double espressos and coffees every time.
One of the best things about the ENA 4 is its simple operation. It can be programmed to pour two different cup sizes in three strength levels. Also built into the machine is the AROMA-G3 coffee grinder, which works twice as fast for a fully preserved aroma. The new grinder enclosure uses a secure cover to keep the beans fresh before it gently grinds and brews them, while the cylindrical diamond-look water tank adds a stylish accent. The ENA 4 is also equipped with a pre-ground coffee by-pass, allowing you to use any preground coffee or decaf blends on demand! Another distinctive feature is the intelligent preheating, which makes your coffee hotter from the very first cup!
Features:
P.E.P- Pulse Extraction Process: The ENA 4 comes standard with Jura's Patented P.E.P system, producing perfect espressos every time.
One Touch Operation: Simply select the size of your coffee and strength (or pre-save it) and within 20 seconds you can enjoy an Espresso, a ristretto or Coffee.
Programmable: Easily program 2 cup sizes depending on your drink of choice.
Small Foot print: At a mere 27.1 x 32.3 x 32.3 x 44.5 (W x H x D) the ENA 4 is perfect for any counter size.
Variable Strength: Choose between Normal, Medium and Strong strength settings.
Adjustable spout: Perfect for small espresso cups or large mugs, just move the head up and down!
Sustainability: All Jura machines use fresh ground beans for every cup creating only compost, no capsules = no waste!
Remote Control: Asking Siri to make you coffee would sound very unrealistic, untill now! The Smart Connect is the Jura coffee machine in your phone!
Built in AromaG3 Grinder: Faster, quieter, consistent and adjustable.
Grinder By-pass: By pass your AromaG3 Grinder with pre-ground coffee for decaf or other blends!
Self-Cleaning: No need to remove the brewing unit or fuss with internal mechanisms as all Jura machines are fully self-cleaning.
Filter or Descale: Jura machines enable users to choose between using Claris filters- fresh water in = fresh coffee out, or traditional descaling methods by simply running the descaler through the water tank.
Sleek Modern Design: Sure to make a statement in any environment, ergonomic features and minimalistic look.
Peace of mind: As the official Canadian Distributor, Faema Canada provides full in-house service at our state of the art National Canadian service centre located in Mississauga, Ontario. All machines come with a 2 year parts and labour warranty.
Whats in the box?:
1 x Jura ENA 4 Metropolitan Black
1 x Jura Care kit which includes: Pack of 2 Cleaning tablets, 1 Claris Smart Filter, User manuals, 1 Pre-ground coffee scoop and 1 Funnel
Other Considerations:
No Milk: If you like milk drinks you might want to consider pairing the ENA 4 with a frother. The ENA 4 does not make any milk-based drinks.
Small Water tank: At 1L this tank needs to be refilled more frequently, compared to other models.
One cup at a time: The ENA 4 can only produce one cup at a time.
Small Drip Tray and Grinds Container: The small foot print of this machine means it holds a small amount of coffee grinds, and will need to be emptied more often.
Read more...