Grosche Chicago Infuser Bottle (Brushed Steel)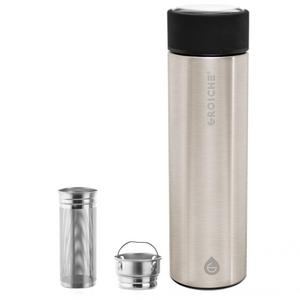 Regular price
Sale price
$34.95
The Brushed Steel CHICAGO is a multi-function stainless steel infuser tea bottle that's designed to keep your drink hot or cold while on-the-go. This leak-proof tea infuser tumbler is not only designed for tea, but is also ideal for hot or cold coffee, water or infusing fruit. The double-walled vacuum insulated body keeps drinks hot for up to 12 hours and cold for up to 24 hours. The CHICAGO bottle holds 450 ml of your desired beverage.
The classic steel exterior with our signature Chicago soft touch lid makes this the perfect bottle for anyone. The CHICAGO provides a sweat-free body & leak-proof lid to avoid any unfortunate mess. The comfortable grip of the soft touch lid is also ideal for removing and securing the lid with ease.
The included stainless steel infuser separates into two pieces to best suit any infusion. The long infuser can contain loose leaf tea or herbs for easy removal and cleaning. The small basket infuser, when detached, is for keeping fruit, tea bags and ice from passing through when drinking. You can also remove the strainer completely and it simply becomes the perfect travel bottle or mug!
We have designed this infuser to be extra long to give your loose teas room to expand and infuse. Also with the extra space in the long infuser, you can easily use it for fruit and herbs with little cleanup.
Leave your plastic water bottles at home! This tea infuser bottle is food-grade safe, BPA free, and reusable. Unlike plastic water bottles, the CHICAGO's vacuum sealed design keepsyour drinks hot for up to 12 hours and cold for up to 24 hours. This infuser tea bottle is unbreakable and fits in all standard cup holders. Take it to the gym; use it at home, work, for travel or even outdoors!
Features:
Features: BPA- free, food-grade safe reusable
Capacity: 450 ml/ 15.2 fl. oz
Cleaning and Maintenance: Hand-wash only
Material: 18/8 stainless steel, double walled vacuum for insulation, stainless steel infuser and inside lid
Read more...